Payunia, the land of volcanoes
Argentina 2007
We make our way through Parque Provincial Payunia, a land of volcanoes. Santiago, our guide, tells us stories of his time there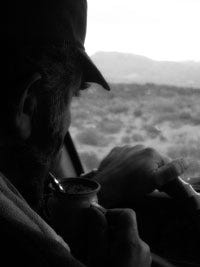 Santiago Cara looked like a fisherman, although he wasn't. He was heavy-set, with a thick beard and wiry hair. He wore a checked shirt under his loose woollen jumper; a fisherman's cap perched on his head.
He was our guide through Parque Provincial Payunia, a geographically-distinct area of nearly eight hundred volcanoes. He was a little expensive, but worth it. We spent eight hours with him, bouncing around in his four-wheel drive, listening to his stories.
Last year, as he took a group out around Payunia, he came across a cow in labour. She was struggling somewhat. By chance the tour group included a vet, so they stopped to help the cow give birth. Most people, he said, saw it as a fantastic photo-opportunity. I was inclined to agree.
In the summer he liked to take people up into the Andes on horseback. He asked: have you heard the story about the plane crash in the Andes, where the survivors had to eat the dead? He knew the location of the plane, so he took people to see it. The area was called Las Lágrimas, 'The Tears', named so before the crash.
It took three days to get there from Malargüe. But before he could offer the trip he needed to know whether the route was blocked by snow. So each summer he and a friend used to ride there and back in a day to see if the route was passable.
He loved his mate (pronounced 'mah-tay'). It seemed that Nadia was constantly preparing it in the passenger seat. We shared it. He would suck down in two two gulps what it took me five minutes to drink. Each sip I took was followed by a wince — it was so bitter.
We bumped and bounced our way along the tracks. As Nadia spilled yerba mate and sugar everywhere, he told us of an Italian couple.
A year back they had emailed him to ask if he would take them down to Perito Moreno, a glacier in the far south of the country. It would be a huge trip that he didn't really have time for, so he replied, offering to do it only for a ridiculous sum.
Fantastic! they said. That would be wonderful. So he took them. The Italians asked his wife to come along. The trip took them eleven days; the Italians paid for everything. They remain fast friends.
The Italians want him as his wife to visit them in Milan. He sighed. For him, it would be too difficult.
He said his dream was to go to Egypt, but he talked so much about Italy I wondered if that were really true.
His company, Karen Travel — little more than him and his wife — was the first to open Payunia up to tourists. He created the routes. He had to lobby the provincial government for a long time before they agreed. But for his troubles he found his way into National Geographic magazine.
He was a fascinating man. If you find yourself in Malargüe — not a town that otherwise sends the spirits soaring — look him up. Then maybe he'll be able to afford that trip to Italy.