Cañon del Atuel
Argentina 2007
A trip into Cañon del Atuel in Argentina finds us watching an Argentinian gentleman working his magic on the ladies. Oh, and we manage some climbing too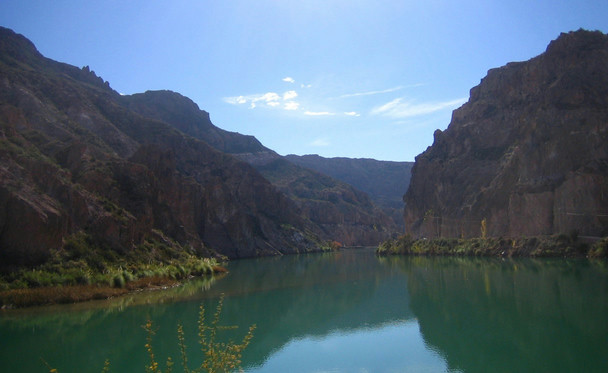 Our guide, Carlos, was a ladies man. His weather-beaten face suggested a life of working under the sun, and it held that hint of roguishness that made the older women swoon.
When outside, a cigarette hung permanently from his lips. While driving, the older women huddled around him as if seeking warmth from a fire. Their husbands were left forgotten around the fringes.
He talked about himself a lot. But no matter what he said the women crowed as one when he finished as story, delighted to be in his audience.
He drove us through Cañon del Atuel, a forty kilometre-long canyon in the centre of Mendoza province. The geology was astounding.
There, he pointed, see how that rock looks like an elephant? Later he spotted a rock that resembled one of the Teenage Mutant Ninja Turtles. He couldn't remember which.
And this, his finger outstretched and a twinkle in his eye, reminded him of something he thought best left to the imagination. The older women blushed in unison.
Escalada
After a late lunch we had a few hours in the canyon before heading back to San Rafael. We were free to do whatever we wanted.
Would you like to go rafting? they asked. Or perhaps canyoning? No, we said, we want to go rock climbing.
Gonzalez was a wiry bloke who also had to fend off the ladies. His mobile phone kept tinkling with the calls from a girl he'd met the night before. He ignored them.
He threw ropes and harnesses in the back of his van and drove us to the rock face. We were too cool to need helmets.
Gonzalez belayed while we climbed. Two routes, one much more difficult than the other. I'd like to say I was incredible; fortunately there's no-one here to say otherwise. I was incredible.