Edinburgh's most photogenic locations
Maps
Where in Scotland's capital are you most likely to take a photograph?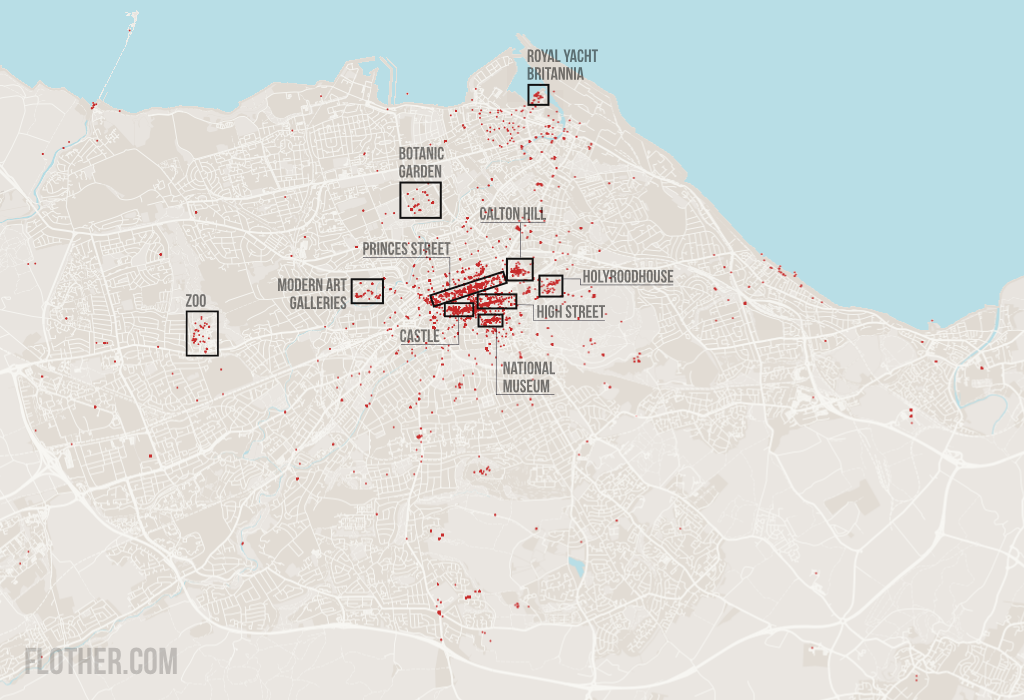 The world knows Edinburgh is a beautiful city: split between the 16th-century Old Town and the 18th-century New Town, bookended by a castle and a palace, nestled under an extinct volcano.
That's the tourist's city at least. It also has a dark side, a Jekyll and Hyde personality, and was the set for Irvine Welsh's Trainspotting. Some parts aren't so pretty.
So what does Edinburgh look like to its photographers? This image shows a single red dot for each of the 42,658 photos on Flickr taken in 2011 and geocoded at the highest accuracy (level 16). I've highlighted the most obvious clusters:
Princes Street, the city's main shopping street in the New Town that offers excellent views of the castle;
Calton Hill, a hill littered with monuments with views of the New Town and Old Town;
Edinburgh Castle;
the Palace of Holyroodhouse, the Queen's official residence in Scotland;
High Street and the Royal Mile, the main streets of the Old Town that run between the castle and the palace;
National Museum of Scotland, home of Dolly the Sheep;
the two galleries of modern art set in grounds in Dean;
the Zoo, an island of photos to the west;
the Royal Botanic Garden, founded in 1670 and moved to Inverleith in 1820; and
HMY Britannia, the former royal yacht now moored in Leith.
There's the curious case of very few photos taken from Arthur's Seat and Holyrood Park. I wonder why there are so few accurately-geocoded photos taken there?
So now you know either where you should take photos or how to avoid taking the same old shots as everyone else.
Base map my own work using OpenStreetMap data from mid-February 2012. Urban area taken from the Scottish government's urban-rural classification of 2010.